El Cajon Mountain day hike ~ 12 miles
February 16, 2019 @ 7:00 am

-

1:00 pm
Arguably the toughest hike in San Diego, this long and arduous hike is literally "uphill both ways." This is a great training hike for backpacking.
Mileage: 6 miles out, 6 back (~12 miles total)
Starting Elevation: 1,549
Peak Elevation: 3,714
Vertical Elevation gain: 2,165
TOTAL Elevation gain: 4,100 feet
Difficulty: Extremely Strenuous
Weather forecast for the day: http://forecast.weather.gov/MapClick.php?lon=-116.82066754454002&lat=32.91407453508634#.WId16_krJPY
Trail route map: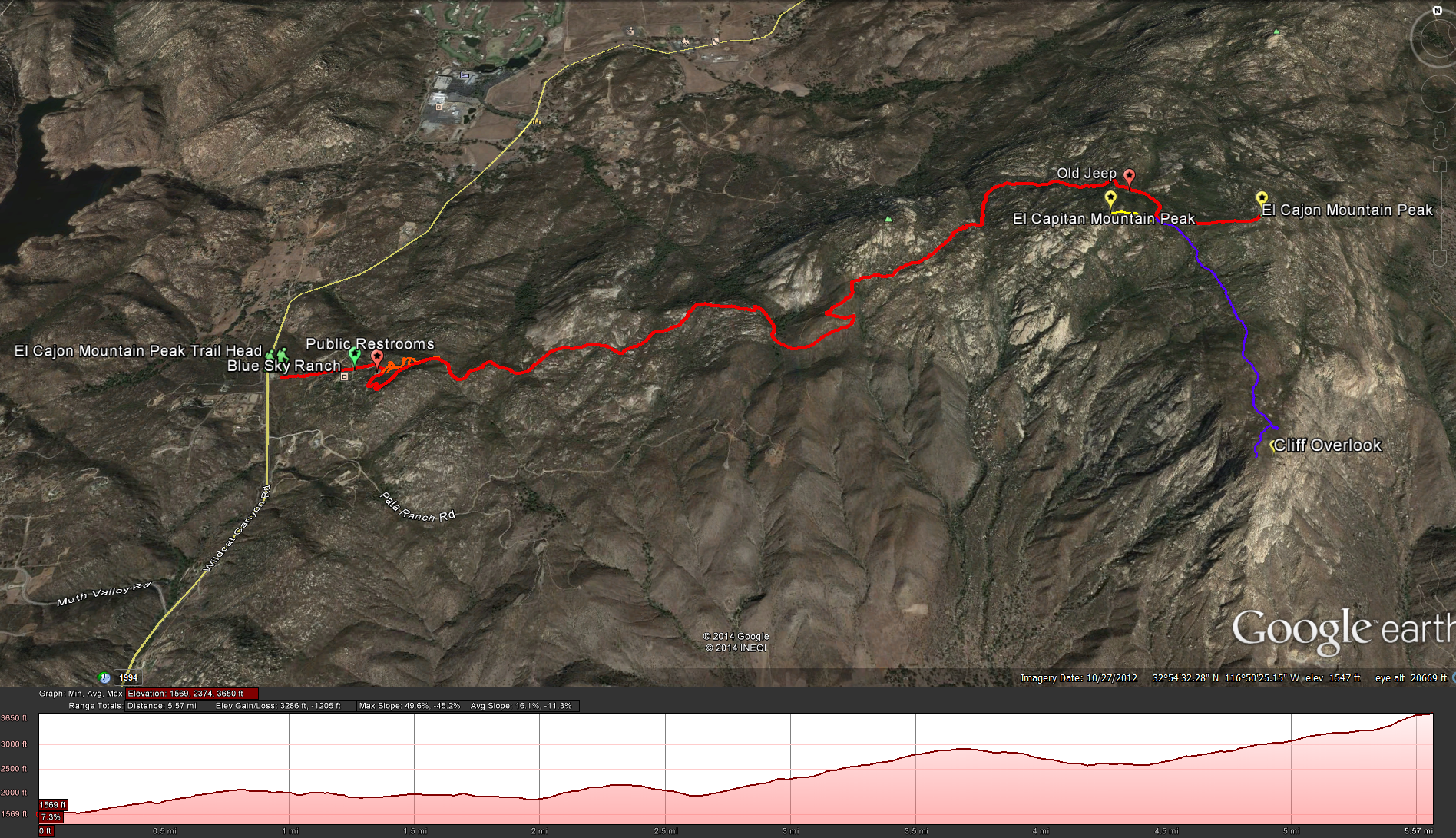 El Cajon mountain is within the El Capitan Preserve (http://www.sandiegocounty.gov/parks/openspace/El_Capitan.html), managed by the County of San Diego. The south face of El Cajon Mountain drops in a nearly sheer cliff, exposing a solid granite wall resembling Yosemite's El Capitan. For that reason, the mountain is commonly referred to as El Capitan Mountain, or simply El Cap.
Dogs are allowed on this trail; but it is not dog-friendly. If you bring your dog, have a backup plan to carry it in case it's too much for them.
Recommended items:
The hiker's 10 essentials, of course, but especially: First aid kit, electrolytes, snacks, hat, sunscreen, wind breaker, trekking poles, extra socks (and any other blister-remediation supplies you might have), and a kick-ass-go-getter attitude!
Directions:Take Highway 67 north. Turn right at Willow Road. Turn left at Wildcat Canyon Road. Turn right at Blue Sky Ranch Road. Before 7am, the gates are not open, so we'll have to park on the street, and meet in the parking lot.
Restrooms: available a little ways up past the trailhead. They are actually pretty nice.
Other blogs:
http://www.modernhiker.com/2015/01/06/hike-el-cajon-mountain/
http://alltrails.com/trail/us/california/el-cajon-mountain-trail
http://www.ihikesandiego.com/el-cajon-mountain-hike/